Best in Show Awards
Exhibited machines on free play and available to guests are eligible for cash prizes awarded by the Organizers of the Texas Pinball Festival. A judging committee, headed up by local collector "Mayor" Bill Morrison this year,  will make the final decision on which pins win ribbons and cash prizes. Judging takes place throughout the weekend, and the winners are announced on Sunday afternoon at the Awards Ceremony.
Pinball machines exhibited at the 2018 Texas Pinball Festival are eligible to win a cash prize and a blue ribbon in each of the following categories:
Best Antique (pre 1960)
Best 60's
Best 70's EM
Best 70's Solid State
Best 80's
Best 90's
Best Modern (2000-present)
Best Original
Best Restoration
Best Custom
Best Classic Arcade Video Game (pre 1990)
Grand Champion – The best overall pinball machine on the floor is named "Grand Champion" and its proud owner will take home a cash prize, ribbon and bragging rights.
The goal of the Best In Show awards is to reward the collectors that put so much time and effort into their games and share them with us at TPF. Best in Show awards will only be awarded to games still present and set up at TPF on Sunday at the start of the Awards Ceremony, and awarded to the Exhibitor that registered the game. Generally, auction and vendor "for sale" games are not eligible. However, we do recognize that some vendors do bring games from their personal collections, and those titles are eligible.
Judging considerations may include, but are not limited to, cosmetic condition, mechanical condition, quality of touch-ups or restoration (if any), game rarity or popularity, game cleanliness (quality of shop job), attention to detail (i.e. legs and leg bolts polished), modifications, and overall appeal.
Bring out your best!

Door Prizes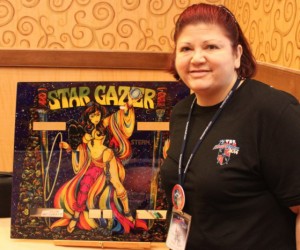 We will have a host of pinball, game and game room related items to give away! And we start giving them away right after the doors open.
How do you get in on this? You buy raffle tickets.
Door prize winners are announced over the loud speaker and displayed near the Registration Booth to ensure that no one gets left out. Winning tickets will be held at the Registration Booth. Unclaimed prizes will be redrawn before the end of the show. All winning tickets will be returned to the bin for a chance at the grand prize on Sunday.