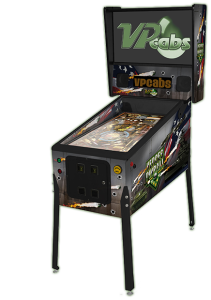 The Texas Pinball Festival is proud to partner with Platinum Sponsor VP Cabs and Pinball for Patriots. All proceeds from the 2017 TPF American Heroes Raffle will be donated to the nonprofit organization Pinball for Patriots, and will help put pinball machines within reach of recovering soldiers in the local DFW area. This year's TPF American Heroes Raffle grand prize pinball machine is a brand new VPCabs Classic pinball machine, valued at $5,495!
Raffle tickets are also good for the many other drawings we will be holding throughout the entire weekend for all kinds of door prizes, including translites, t-shirts, magazines, pinball DVDs, promotional flyers, and much, much more! Door prize winners will still be eligible for the final drawing for the pinball machine on Sunday. Don't miss out!!!
Tickets for this pinball machine are just $5 each, or 5 for $20! Tickets will only be available for purchase at the show. You could join the ranks of our Texas Pinball Festival Raffle Winners!
Jeff Bartlett
Terminator 2
Regina Griffin
World Cup Soccer
Carey Fishman & family
Lethal Weapon 3
Scott Martin
Judge Dredd
Sean Auger
NBA Fastbreak
Carey Fishman & family
Party Zone
Nick Heinerikson
Monopoly
Lin Moore
Transformers
Josh Thomson
Avengers
Jared Parker
Star Trek
Nicholas King
Wrestlemania
Ron Woodard
Spider-Man
2017 winner
VP Cabs Classic
Guests holding one-day passes that have also purchased raffle tickets are welcome back into the show for free on Sunday after 2 pm to witness the Best of Show prize awards and raffle drawing.
The drawing for the Pinball Machine will be held Sunday at the close of the show.
Shipping and delivery arrangements are the responsibility of the winner. Ticket holder must be present at the time of the drawing to win. If ticket holder is not present, another ticket will be drawn until a winner claims the machine.