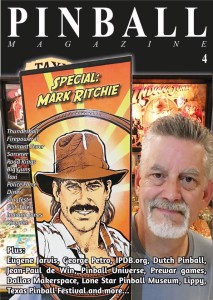 Mark Ritchie, featured on the cover of the upcoming Pinball Magazine #4, is returning to TPF2017.
Mark designed popular games such as Diner, Indiana Jones: The Pinball Adventure, Fish Tales, Taxi, Sorcerer (this year's TPF theme), and so many others. He will be visiting with show guests and fans all weekend!
Fun fact: Mark's wife Trudy, who will also be at the show, is the voice of Marilyn on Taxi. She's also the voice of Maggie on Diner and the girl on the CB radio on Truck Stop.