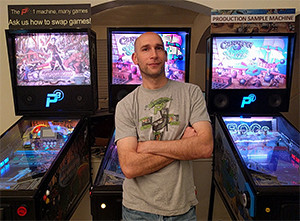 Multimorphic is no longer just a company with a cool prototype for the future of pinball. They're now a full-fledged manufacturer shipping P3 machines to customers and providing P-ROC control systems to many of the other pinball manufacturing companies.
A platform machine is defined by its features and its game content, and Multimorphic is excited to once again show off a wide range of P3 games and features. Standalone games, networked games, and gameplay content and features for all age groups ensure that everybody enjoys playing the P3.
Gerry Stellenberg, Multimorphic's founder and president, will be presenting a seminar describing how Multimorphic merges traditional concepts with new ideas. He'll also be showing off their latest developments, including more industry-first technologies. Don't miss it!