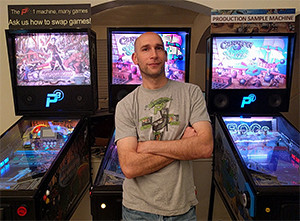 Gerry Stellenberg and Multimorphic will be back again to show off the latest developments on the P3 Pinball Platform.  Last year they announced 4 new games for the platform, and this year they're promising even bigger announcements and demonstrations.
With new P3 games, new technologies, and a well-defined vision for the future of pinball, Multimorphic is putting their money where their mouth is.  All of their developments will be on display and available for play in their booth, as will a bunch of exciting custom games developed by their customers using the P-ROC control system.
Gerry will also be presenting a seminar to give a detailed look into Multimorphic's operations and manufacturing plans.  Don't miss it!