The 2017 Texas Pinball Festival is proud to present the official world premiere of: "Things That Go Bump In the Night: The Spooky Pinball Story."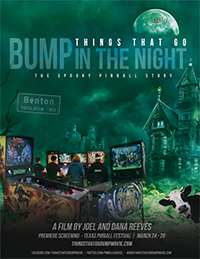 A devoted family man in rural Wisconsin gives up the security of a successful 20-year career to pursue his dream in the boom-or-bust world of pinball manufacturing. While trying to break into a tough competitive market and build a thriving business, he must navigate the bumpy roads that new startups inevitably face, without plunging his family into financial ruin.
"Things That Go Bump In the Night: The Spooky Pinball Story" chronicles the journey of The Emery Family – Charlie, Kayte, Bug, and Squirrel – as they meet the challenges of building their family-run business in the small community of Benton, Wisconsin. With no "Plan B," Charlie and his Spooky Pinball team are all-in and committed to doing whatever it takes to succeed.
A documentary film by Joel and Dana Reeves! Visit http://thingsthatgobumpmovie.com.
Showtime: Saturday, March 25th, 8pm in the seminar room. Seating is limited. Admission to TPF2017 required.
Following the presentation, film makers Joel and Dana Reeves, the Spooky Pinball gang, and a few characters from the film will discuss the film during a short Q&A session.
There will be an encore presentation of the film on Sunday, March 26th at 10am for those not able to attend the premier.