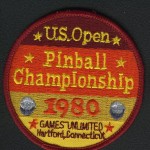 The first recorded tournament in the International Flipper Pinball Association database is the 1980 "US Open National Pinball Championships" held at an event called "Games Unlimited" in Hartford, Connecticut. This is documented on the IFPA website and was written about in Play Meter Magazine in the January 1981 issue.
Like many events, commemorative and souvenir patches were made.
Like a scene out of an Indiana Jones movie, TPF has discovered a treasure trove of these lost pinball artifacts. IFPA President Josh Sharpe confirmed the event and commented his father Roger helped organize it. We suspect these patches were ordered and intended for the event, but for some unknown reason, never made it. If anyone knows the story, please contact us.
Anyway, we think these are pretty cool piece of IFPA & pinball history. A limited number of these rare patches will be made available to pinball collectors.
$5 from each sale will directly benefit the IFPA.