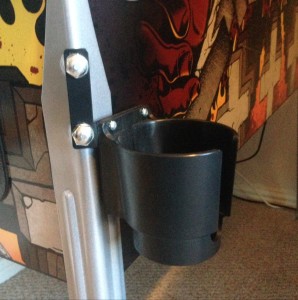 The PinGulp Beverage Caddy by Pinball Life is "…the final solution for pinball machine beverage management!"
These were so popular last year, we have again purchased a large quantity of official PinGulp Beverage Caddies and will offer them exclusively to TPF 2014 pinball machine Exhibitors at a discount in exchange for mounting them on their machines during the show.
Exhibitors will be able to purchase the caddies Thursday and Friday during show set up while supplies last. Additional details will be sent to Exhibitors along with set-up instructions. Find out more about becoming an Exhibitor, or register now.
Once the show officially opens on Friday afternoon, any remaining caddies will be offered to general show guests as well. A big THANK YOU to Pinball Life for their support.