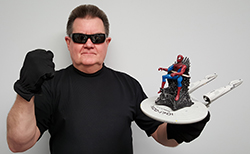 Pinball Czar! His Majesty! His Grace! Supreme Ruler! The KING of Pinball! A Texas Pinball Festival staple!
Famed pinball designer Steve Ritchie will return to TPF2017 to hold court and visit with fans and loyal subjects! Steve will join his brother Mark in a seminar entitled "Growing Up Ritchie". You're attendance is requested!
Some of Steve's hits include: Black Knight, Firepower, High Speed, F-14 Tomcat, Terminator 2, Star Trek: The Next Generation, Terminator 3, Elvis, Spider-Man, AC/DC, Star Trek, and Game of Thrones.