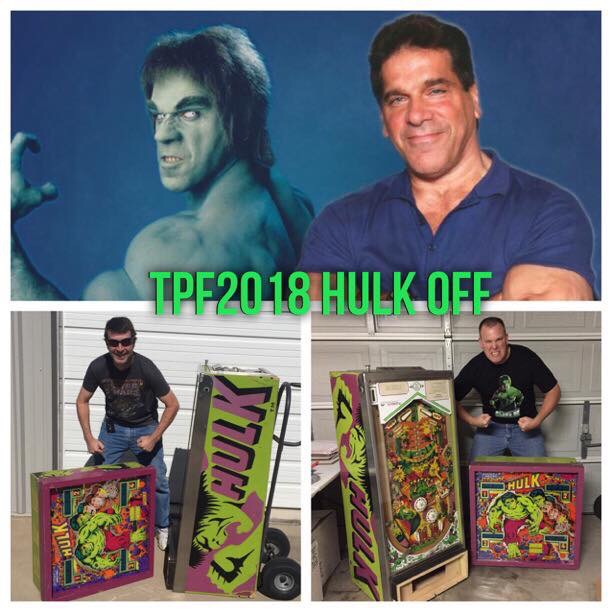 Ladies and Gentleman… It's a HULK OFF! The 2018 Texas Pinball Festival is presenting Mr. Lou Ferrigno with a fully restored 1979 Gottlieb "The Incredible Hulk" pinball machine at the show! We had two Hulk restoration candidates to choose from. It was suggested both be restored in competition and Mr. Ferrigno would choose the winner (and which machine was going home with him).
Meet the restorers:
Kevin Moore is a well known and respected DFW area collector and restorer. In 2015, he won the "Best 80s" award in TPF's Best In Show competition for a beautiful classic Stern Stargazer. He returned in 2016 to take the "Best 90s" for his amazing restoration of The Addams Family. In 2017, Kevin returned guns a blazing to win it all! He won "Grand Champion" for his stunning Bride of Pin-Bot! Kevin has other restorations under his belt and even built a Medieval Madness from a donor game of another title with new and NOS parts. An amazing accomplishment! Now Kevin thinks he has what it takes to win over the HULK himself!
Edward VanderVeen is one of the organizers for the Texas Pinball Festival and has been part of the DFW pinball community for many years. Ed has completed many beautiful game restorations including home built conversions of Medieval Madness and Cactus Canyon. Ed knows he is the underdog in this competition, but he is resourceful and thinks Mr. Ferrigno will choose his Hulk over Kevin's.
Keep an eye on our Facebook, Twitter and Instagram pages. We'll post updates of both games as they progress. Then come out to the show to see which one Mr. Ferrigno chooses.