The Texas Pinball Festival hosts a variety of Pinball Tournaments for all ages to test your flipper skills! Everyone attending the show is encouraged to enter and plenty of skilled players will divvy up what could end up a sizeable amount of cash prizes and trophies! Let's see what you've got TOMMY!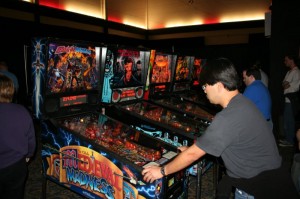 Players will have the opportunity to qualify in our IFPA endorsed Texas Wizards Tournament, and take home their share of the substantial prize money. Top qualifiers will also take home cash and trophies.
Tournament entries for the Texas Wizards Tournament can be purchased in advance of the show on our Swag page. Register early to secure your spot, and remember that tournament tickets do NOT include entry into the show.
In addition to these, we will also offer a Women's Tournament, based on its popularity in previous years. Rules for the Women's Tournament are still being determined.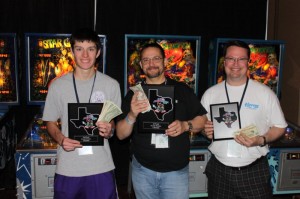 We will run the Kids' Bump 'n' Win and the Parent/Child tournaments to get the kiddos involved. Each of these fun tournaments will afford kids the opportunity to shine, and perhaps show up their parents. And don't forget the trophies and prizes! Information on these tournaments can be found here.
Look over the individual tournament pages and the Tournament Rules and Guidelines and if you have any questions, the tournament staff will be able to address them at the show. We will post more details as the show approaches.
One last thing… If you're new to tournaments, don't let them intimidate you. Competitive play can be fun and rewarding.
Good Luck!