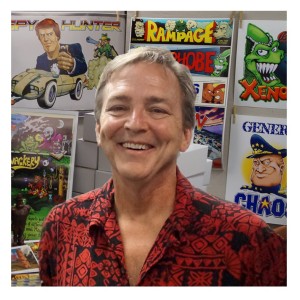 Father of RAMPAGE, XENOPHOBE and GENERAL CHAOS, Brian F. Colin is a vastly experienced Game Designer, Artist, Animator and Development Group Leader with over 80+ videogame titles to his credit in the Coin-Op Arcade, Home Console, PC, Casino, Mobile and Social Game markets…. including the creation of some of the most-popular, highest-earning & best-selling titles in video game history!
Some of his best-known games include:
RAMPAGE
XENOPHOBE
ARCH RIVELS
PIGSKIN 621 AD
GENERAL CHAOS
RAMPAGE WORLD TOUR
STAR TREK VOYAGER
and many more!
Brian will be visiting with fans and guests all weekend just ahead of the RAMPAGE movie premier April 20, 2018 starring Dwayne "The ROCK" Johnson!