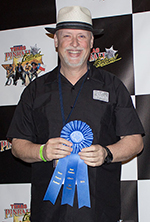 Best Custom
Jason Durham
Spinal Tap
We've said it before and we'll say it again. And again… and again… and again.
A pinball show is only as good as the pinball community that supports it. And we are lucky to be able to say that we have the best supporting community in the country! It's evident that our Exhibitors work hard restoring, transporting their games and actively participating all year round to help make the Texas Pinball Festival the incredible show it has become. We understand that bringing a pinball machine to TPF is no simple task and we appreciate the efforts of each and every Exhibitor.
For every pinball machine or classic arcade game brought to the 2017 Texas Pinball Festival and set on free play for the entire weekend, Exhibitors will receive some really cool incentives, including:
– an Exhibitor Level Weekend Pass to the 2017 Texas Pinball Festival
– exclusive entry into the Exhibitor After Party on Saturday night
– a collectible TPF2017 Exhibitor Challenge Coin
– a raffle ticket for an Exhibitor raffle awarding prizes during show set-up
– entry into the TPF Best in Show Competition
– a chance to win a VP Cabs Vertigo machine at the awards ceremony on Sunday.
– a chance to win one of 5 $100 cash prizes at the awards ceremony on Sunday.
– The satisfaction of knowing that TPF is your show, taking pride in your game, sharing it, and making TPF the greatest show in the Galaxy!
If you're interested in becoming an Exhibitor, and we hope you are, visit our Exhibitor page for all the details and to sign up. Join dozens of other pinball enthusiasts and sign your machines up to add to our growing list of games.