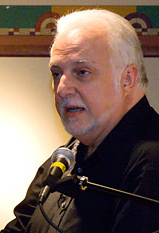 Appearing for the first time at the Texas Pinball Festival, veteran pinball designer John Trudeau will be speaking, signing autographs and visiting with guests.
Some of John's hits include Creature from the Black Lagoon, Judge Dredd, Black Rose, The Machine: Bride of Pinbot, and most recently, Stern Mustang.
Check out John's seminar at the show, and bring that favorite translite for him to autograph.