Wow! I think that may have been the longest weekend of our lives! But it was soooo worth it! We had a great time, and we suspect y'all did too. And now that we've had a few days to recover, we wanted to send out one final message for the 2014 Texas Pinball Festival: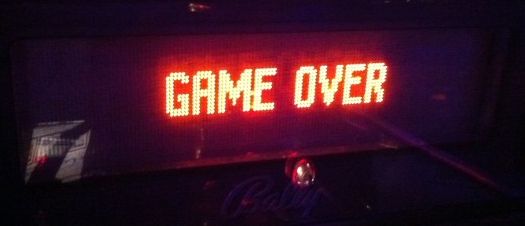 We owe a LOT of "Thank You's"… to each of our exhibitors, including all of our first timers, those that purchased tournament machines, the members of the DFW Pinball & Arcade Club for putting on that incredible swap meet, and all of our regulars. The time and effort you put into your games and your willingness to share those games in this format has made the Texas Pinball Festival the envy of other pinball shows. We couldn't put this show on without each and every one of you. We are always proud to hear you refer to TPF as "our show."
To all of our vendors and sponsors… Marc Oradat of Elevation Games, who once again brought the largest pin ever created, the Atari Hercules. To Bill Morrison who wrangled in the legendary Classic Stern Row. To Marco Specialties for their always impressive setup and continued support of the show. To Jersey Jack Pinball for providing an always popular Wizard of Oz game for the show. To Stern Pinball for their show of support, and lending us John Borg and Steve Ritchie for the weekend. To our distributor Steve Nordseth of FUN! who brought almost a hundred games to the show and organized one of the highlights of the weekend, the Pinball Only Auction. And to Planetary Pinball and Chicago Gaming Company for bringing the highly anticipated Medieval Madness Remakes. You all helped make this show special, so Thank You!
To our speakers Randy Perlow (Color DMD), Gerry Stellenberg (Multimorphic), Paul Faris and Roger Sharpe, to Gary Stern, Steve Ritchie and John Borg, to Dirty Donnie Gillies, to Jack Guarneri and Butch Peel of Jersey Jack Pinball, to Rick Bartlett of Planetary Pinball and Doug Duba of Chicago Gaming Company for the thoughtful and informative seminars you presented. To Brian Savage (ModMyPin.com), Jim Schelberg (Pingame Journal), Elliott Munoz (Elliott Munoz Photography) and Martin Ayub (pinballnews.com) ad all the independent bloggers and podcasters for their in depth coverage of the show and seminars.
To all of our families and most especially to this year's volunteers. Some of you sign up to help… some of you kind of have to. We could not have made the 2014 Texas Pinball Festival what it is without all your help and dedication. And to everyone else the helped the show in any way:
THANK YOU FOR MAKING TPF 2014 AWESOME!
And now we say Congratulations! First to you…. we're pretty sure we beat the standing world record from Most People Playing Pinball at Once. The old record stands at 100 machines. The unofficial count confirmed by an independent accounting firm for the TPF2014 world record attempt is 272 players! The count is currently pending confirmation by GuinessTM.
To all of our winners… and there were a lot of them!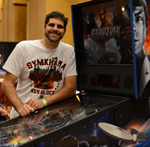 To start with, Jared Parker took home the 2013 Star Trek American Heroes Raffle pin. Jason Scheffelmaer won the top tourney prize in the Texas State Championship. Austin Kemp beat out his competition in the Kid's Bump 'n' Win. 11 pins took home Best in Show ribbons, including the Grand Champion, John Zitterkopf for his work on Star Trek The Mirror Universe.
The official game count, between visual verifications by volunteers and Martin Ayub's list published at pinballnews.com, is 435 games! This year we raised over $5,100 for the Wounded Warrior Project. We awarded over $4,000 in tournament money and trophies, and $1,450 in Best in Show award monies and ribbons. And we increased our attendance by about 10%.
We couldn't mention everyone or everything here, so click here to see the rest of our winners, the game line-up and more pictures from the show. And we know a lot of you got some great pictures and videos. Email us, and we'll add a link to your albums.
We knew there would be a few hiccups to go along with the new venue. But we have never had a smoother transition. We have received overwhelmingly positive feedback and we invite you to send us your thoughts too. We welcome all compliments, constructive criticism and suggestions. Please direct them to info at texaspinball dot com.
Mark your calendars. The 2015 Texas Pinball Festival will be held March 27-29 at the Embassy Suites & Frisco Convention Center.
See y'all at TPF 2015!