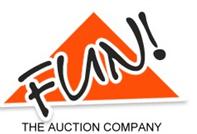 The 2015 Texas Pinball Festival will one again play host to the largest pinball auction in history! In cooperation with Fun! Auction Company, nearly 100 plug and play pinball machines will be auctioned off to the highest bidders Saturday afternoon in a Sotheby's style auction.
Games included in the auction will be available for preview on Friday and Saturday and will remain on the floor on free play the entire weekend, until the lucky buyers get to take them home on Sunday, at the conclusion of the show.
For more information, bidder registration, or to inquire about consigning a game in the auction, contact Fun! Auction Company directly.