All of the exhibitor machines on the floor are eligible for cash prizes awarded by the Organizers of the Texas Pinball Festival. A judging committee, headed by local collector and TPF Mayor Bill Morrison, will make the final decision on which pins win ribbons and cash prizes. Judging takes place throughout the weekend, and the winners are announced on Sunday afternoon.
Pinball machines exhibited at the 2018 Texas Pinball Festival are eligible to win a $100 cash prize and a blue ribbon in each of the following categories: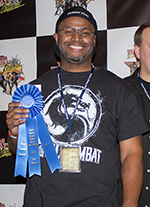 Best Antique (pre 1960)
Best 60's
Best 70's EM
Best 70's Solid State
Best 80's
Best 90's
Best Modern (2000-present)
Best Original
Best Restoration
Best Custom
Best Classic Arcade Video Game (pre 1990)
Grand Champion – The best overall pinball machine on the floor is named "Grand Champion" and its proud owner will take home a $250 cash prize and bragging rights.
Get all the details here and bring out your best!